The exciting news that Forrester will acquire rival analyst firm SiriusDecisions no doubt raises questions for analyst relations professionals. Many of which will take months or more to answer. But the sooner you begin to think about the implications of the acquisition, the better prepared you'll be to react and best engage with the new Forrester as it integrates SiriusDecisions.
If you're unfamiliar with SiriusDecisions, the company is one of the better-known and most respected analyst firms outside of the big three of Gartner, Forrester, and IDC. SiriusDecisions is strongest in the topics of B2B sales and marketing, especially for operational frameworks and methodologies. Like Forrester and Gartner, SiriusDecisions' products include research, events, and consulting – with research being top dog.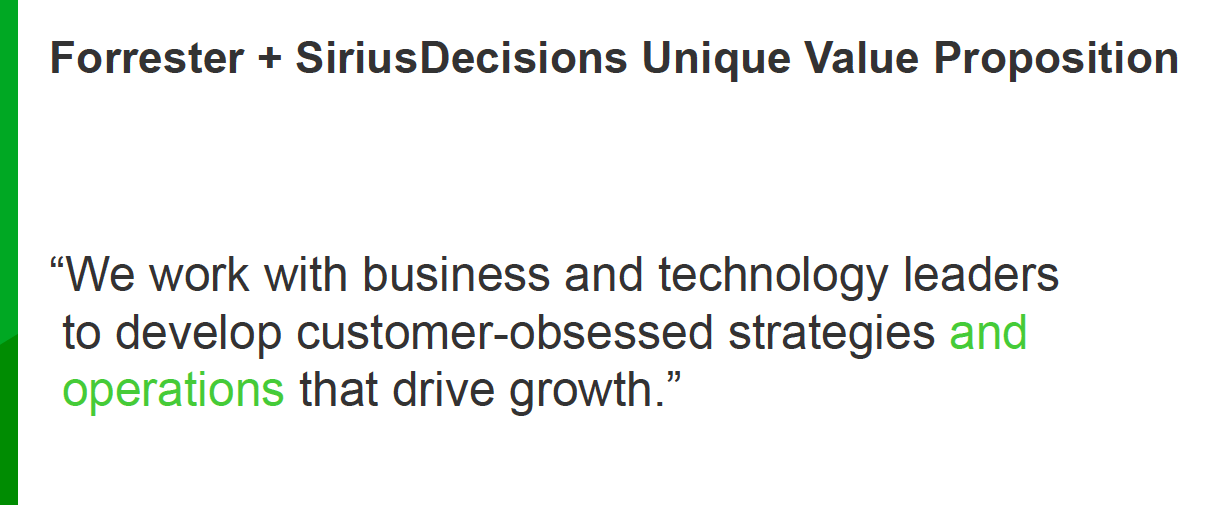 Forrester founder and CEO George Colony summarized the big-picture benefits of the acquisition by saying "Our clients will now know what to do and how to do it."
Let's recap the basics of the forthcoming acquisition:
Forrester will buy SiriusDecisions for about $245 million. The deal is expected to close in January 2019. It's the largest acquisition in Forrester history.
The price tag of $245 million is about 2.8 times the past 12 months of SiriusDecisions' revenue. $70 million of the price will come from Forrester's piggybank; $170 million will come from financing.
During the conference call about the acquisition, Forrester CFO Michael Doyle described the 2.8x factor as a fair rate, noting that there's a range of 1.1x to 4.8x for industry analyst firms, with Forrester trading at a rate of about 2.4x as of earlier this week.
Forrester CMO Victor Milligan told Marketing Land that Forrester will retain branding for SiriusDecisions and its "Sirius Way" methodology. SiriusDecisions will effectively become a new product line for Forrester, not a business unit to absorb into the Forrester status quo.
Forrester will retain all 340 SiriusDecisions employees. For practical reasons, come late 2019 there will be consolidation of offices in locations where both companies have physical presences.
At some point in 2019 the two founders of SiriusDecisions (John Neeson and Richard Eldh, both of whom are former Gartner executives) will move to emeritus consulting status.
Of the roughly 3,500 Forrester subscribers and 1,400 SiriusDecisions subscribers, there are 278 companies that overlap the two firms.
The most salient points of the acquisition, though, relate to why Forrester will make this purchase.
No doubt this is a move by Forrester to combine its strengths in strategic, challenging thinking with SiriusDecisions' strengths in tactical, operational excellence. That's not to suggest that Forrester lacks practical chops or SiriusDecisions doesn't help clients think about the big picture. But each firm has well-established strengths that were different and yet will be complementary when brought together.
One can't help but wonder if Forrester went after SiriusDecisions at least in part in reaction to Gartner's acquisition of CEB. The truth is Forrester's interest in SiriusDecisions has been high for quite some time – it turns out that the fourth time was the charm. During the investor conference call about the acquisition, Colony commented that the two parties considered this in 2009, 2012, and 2013.
Forrester's north star of customer obsession plays an important role here, too. With access to data and insights from SiriusDecisions clients, Forrester can elevate its already solid offerings to clients in B2B sales, marketing, and product development. And Forrester can bring the gospel of the Age of the Customer to SiriusDecisions clients in ways they've never experienced.
In short, this purchase will give Forrester new critical mass. And, whether intended or not, it shows a new level of mojo that Forrester naysayers of recent history will have a hard time ignoring.
So what are the implications moving forward?
Forrester expects the addition of SiriusDecisions will contribute about $100 million to Forrester revenue in 2019, or about 10-20 cents per share.
Forrester says the acquisition will double its addressable market – from about $20 billion to about $40 billion.
The new value proposition for Forrester with SiriusDecisions in its fold will be "We work with business and technology leaders to develop customer-obsessed strategies and operations that drive growth." (New part italicized by me for emphasis.)
There are huge opportunities to sell Forrester into SiriusDecisions clients, and vice versa. Ditto opportunities to expand SiriusDecisions to new markets where Forrester is traditionally stronger – such as customer experience, B2C marketing, healthcare, financial services, and in geographies such as Europe and Asia.
By roughly this time next year, Forrester will have two platform offerings. First, the Real-Time CX Cloud – which is on its way for rollout next summer. Second, SiriusDecisions – with its Sirius Way methodology for best practices and optimization and its Demand Waterfall model that helps B2B marketers run and improve their lead management programs.
And that just scratches the surface. There are lots of questions – known and unknown – to be addressed in the many months ahead. In the meantime, what should analyst relations professionals watch for and consider?
If you already have inquiry access to the B2B Marketing team at Forrester – outstanding analysts such as Laura Ramos, Lori Wizdo, and Jay McBain to name a few – will you gain inquiry access to SiriusDecisions analysts such as Barbie Mattie, Bob Peterson, and Jessie Johnson?
If you have contracts with both Forrester and SiriusDecisions, will they consolidate? Will pricing for either or both offerings increase?
Will there be increased opportunities or even pressure from your account reps to upgrade the scope of your access? During the conference call, Colony commented that one of the biggest differences between the two firms is how SiriusDecisions runs its sales operations similarly to Gartner, with a deep focus on NCVI (net contract value increase). Colony said that SiriusDecisions will stick with that model for 2019 and that Forrester will use its new vantage point on that strategy to consider it for traditional Forrester sales.
What else is on your minds in terms of AR related to the future of SiriusDecisions as part of Forrester? What are your general reactions to the acquisition? We invite your comments below.