Tell me if this sounds like something you've dealt with – you and your team feel something about your platform or services is more important than an analyst does.
While I'm sure this is rare for many of us (ha…), what do you do when you need to convince an analyst that your way is the best way? How do you show them the market the same way – or at least closer to the way – you see the market?
When analysts agree with our worldview, needless to say, it makes our jobs as AR pros much easier. With alignment, they can see why you built the capabilities you did and how your customers find them valuable. They start to care more about your solution to the problem. And while we can't control every outcome, winning like-mindedness is only going to help improve the odds that they may weigh your strong capabilities even higher than the previous year… possibly helping you move up and to the right.
There are many avenues to influencing analysts, but we believe the best way to create a shared worldview is to show the analyst the problem through the customer lens.
The customer is always right… and will help you win
Your customer's testimony is more powerful than you talking about yourself and what you believe. Bring them to the table to share their experiences, their pain points, and their needs.
What does this look like? We recommend inviting customers to co-brief the analyst with you, bringing customers to advisory days and SAS days, and using them to support the conversations you have with analysts around trends. Their voice is more powerful than yours, so leverage it while you communicate to the analyst evidence of the problem and your capabilities that solve that problem.
A real-world example
Let's look at a case study of one of our technology clients. We used our positioning model to help them analyze how the analyst views their offerings. One of their strong capabilities, education and training, fell in the "convince" quadrant – undervalued by the analyst.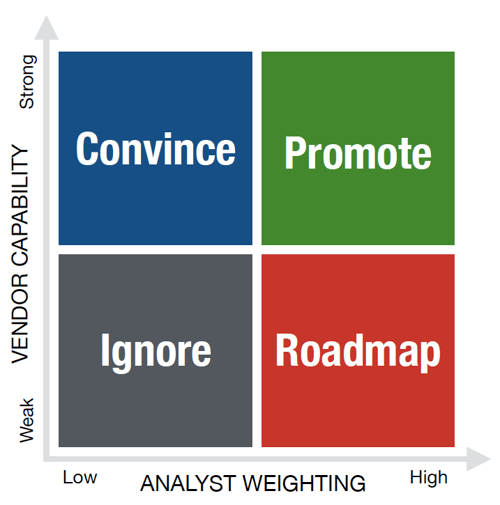 The next iteration of the Forrester Wave was set to kick off in 8 months, so we knew we had a small window of time to convince the analyst of their worldview. We wanted to convey that lack of education in the market is a foundational root cause to customer anxiety and lack of adoption of this type of technology. We needed the analyst to see that educating the customer is a crucial piece in change management and thus needed to be weighted higher in the next version of the Wave.
How did we do it, and how do we know if we were successful?
Our client leveraged their customers to storytell on their behalf. Customers talked with the lead Wave authors about their experience before hiring our client. They tried to implement the technology without training and were unsuccessful. They shared the negative implications this had on the company's time, dollars, and internal support.
Then, they shared their experience with our client. They elaborated on how our client provided the right level of training and support with change management. Because of this, the customer was able to implement the technology successfully and see business value because of it.
The customers went to bat for our client, and it paid off. Analysts started writing more reports specifically on the topic of education and training, directly showing us that our client was making gains in convincing the analyst. And in the next version of the Wave? The analysts specifically weighed education and training higher – the ultimate sign of success.
There are many ways to show an analyst your point of view, but nothing is more impactful than having your clients share their real-world experiences. Analysts love to see the proof of your progress, and customer testimonies are the most powerful way to gain analyst like-mindedness.
For a deeper dive on our positioning model and strategies for making big impacts in evaluation reports, check out our on-demand webinar.
How do you convince analysts when your world views don't align? Let us know in the comments below.