The Spotlight Platform is in private beta testing and seeking a select group of beta users
Kansas City, Mo., (March 6, 2019) – Spotlight has developed a new platform to help analyst relations practitioners be more effective and efficient, and is seeking users to apply for a limited private beta testing. The new Spotlight Platform supports analyst relations best practices and allows users to capture analysts' perceptions, confidently plan program activity, and streamline their daily work.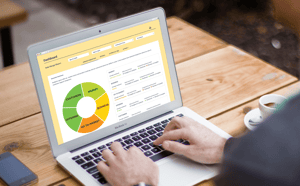 "We're excited to launch this new AR platform because there's nothing else like it in the market," says Rick Nash, Co-founder and Managing Partner at Spotlight. "The technology is founded on analyst relations best practices, so everything the tool gives you directly supports the way analyst relations should be done."
The new Spotlight Platform is the first of its kind to be built around analyst relations best practices. It supports the unique needs of managing analyst relations that tools like project management systems or customer relationship management systems cannot. Some features of the all-in-one solution include:
Analyst Perception Gauge: Inside the Spotlight Platform, users can capture the valuable feedback analysts give about their business every day. These recommendations aggregate over time into a simple report that is actionable and easy-to-digest by executives and AR pros alike.
Comprehensive Strategic Calendar: Users can see every upcoming and past analyst interaction, evaluation report schedule, conferences, product launch timelines, etc. in one view. The calendar automatically pulls in relevant interaction activities and report schedules based on time-sensitive data entered into the platform. Users also have the ability to manually add in milestones to the calendar that are meaningful to them.
Integrated Interaction Management: Users can easily surface the last interaction they had with an analyst, the feedback analysts have given them in the past, and the details about what they are trying to achieve with analysts moving forward. The Spotlight Platform organizes this information so users can focus less on administrative tasks, and more on helping their business be successful with analysts.
"We've seen amazing improvements in efficiency since our employees have been using it." says Nash. "With the Spotlight Platform, we can truly show how analyst relationships are moving forward, how analysts are perceiving messages, and how impactful AR is on the business."
Those interested in using the new Spotlight Platform can complete an application to join the private beta launch. Besides being the first to try it, private beta users can provide feedback to influence future versions of the platform. Private beta users will also receive a personalized, red carpet on-boarding experience and discounted pricing with unlimited customer support for the first six months.
Spotlight is a dedicated analyst relations firm offering a full range of AR services from strategic planning to execution and reporting. Spotlight partners with those who need to support their teams with additional AR expertise. They provide training and methodologies for those who need help establishing an AR practice. Or, they can execute entire AR programs for those looking for third-party support. Spotlight was a 2017 and 2018 Great Place to Work award recipient and a four time winner of Kansas City Business Journal's Best Places to Work recognition.
###